Grounding & Strong Foundations: the Earth Connection spray is an excellent combination to quickly help you to re-align and re-balance when you are feeling ungrounded or disconnected from your body. It will help to pull you firmly back into your body and to ground and connect you with the Earth as well as stabilise your energetic foundations, re-connecting you with the present moment.
Earth Connection Essence Review
So our focus for this months Essence Review is the Earth Connection Spray from our Pure Vibrations Spray Collection.
Earth day on April 22nd offers us all an opportunity to review our personal connection with, and relationship to, the Earth. Traditionally this is the day on which environmental issues come to the fore for review and discussion usually with a focus on what can be done physically in the world to assist.
The Earth Connection Spray is a deep acting combination of flower, gem & crystal energies designed to help pull you firmly back into your body and assist you to realign and stabilise your energetic foundations.
However, there is another layer to this discussion that is not so often considered, which is the recognition of the energetic connections that we as humans have with the Earth as the living being that she is.
The many lives we have spent exploring a third dimensional reality in which everything has been seen as separate from everything else, including Source, has meant that the dynamic, co-creative relationship that exists between the Earth and humanity has largely been played out unconsciously.
Consciousness is now rising on the planet again and the recognition of the oneness and interconnection of all life is growing in so many ways, providing us with an opportunity to understand our relationship with the Earth from a completely new perspective.
Clearing Old Patterns
As we move through this time of transformation many old patterns are coming to the surface for us to review and release. Many of these relate to experiences we have had over our many lifetimes that have left us feeling that it is not safe or comfortable to fully inhabit our physical body.
Distorted religious and spiritual teachings that have told us that the body is 'bad' and has to be transcended have added to this belief. This makes it very difficult for us to fully activate our energetic connections with the Earth which in turn limits our ability to consciously connect with the wisdom of our multidimensional self.
The higher we reach spiritually the more we need the solid support of our earth connection and energetic foundation to stay balanced. Now would be a wonderful time to review how comfortable you feel in your body and how connected you feel with the Earth.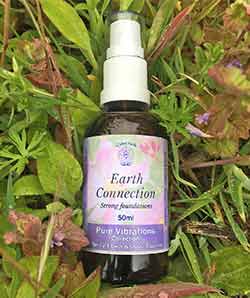 Earth Connection Spray
The Earth Connection Spray is a deep acting combination of flower, gem & crystal energies specifically designed to help pull you firmly back into your body and assist you to realign and stabilise your energetic foundations.
Use it regularly over a period of time to help you release old habits that create resistance to being fully present in your body, or to help you root deeply into the Earth.
This is also a wonderful spray to turn to when something has knocked you off centre, leaving you feeling temporarily ungrounded, disconnected and in need of a little support to realign.
This combination contains the following essences: Black Tourmaline, Loosestrife, Copper, Smoky Quartz, Ruby & Cavansite.
How to Use
Spray liberally into the auric field for a quick and effective energetic realignment or use over a period of time to support more permanent transformation. You can also take this essence spray internally in the same way as our other essence combinations if you wish.
As with all our Pure Vibration Sprays the Energetic Alignment Spray is available with either a wheat alcohol or a wheat alcohol and rose water blend base for those who prefer a scented spray.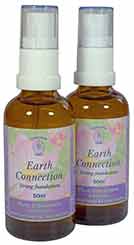 Essence Range: Pure Vibrations Collection Sprays
Adult How to Use: 2 sprays on the tongue up to 4 x a day… Full How to Use
Essence Type: Flower, Gem & Crystal Essence Combination | Stock Level
See Also:
Share Your Experiences…
We hope you've enjoyed our exploration of the Earth Connection Spray. We'd love to hear your experiences of working with this essence, so please do leave us a comment and share your experiences!

Catherine is a director at Crystal Herbs and has been with us since the early 1990's. She is a trained essence practitioner, energy healer, teacher and workshop leader. She loves creating vibrational essences and greatly enjoys making the mother tinctures that allow us to provide our wide range of flower, gem & crystal essences. Her passion is to provide the knowledge, wisdom and tools that will support others to find greater harmony, well-being and spiritual fulfilment in their lives.
More About Catherine Keattch | All Blog Articles | All Videos