Grounding – Strengthen Your Roots So You Can Manifest Your Ideas
Loosestrife is an excellent flower essence if you easily become spaced out or ungrounded, have difficulty staying in the present moment, or would like to expand your higher connection.
Do you ever feel ungrounded or 'spaced out' and want to feel more stability and alignment in your energetic system? Are you having difficulty acting on your intuitive guidance and wish you could transform inspiration into action more easily?
Loosestrife is an excellent flower essence for grounding and alignment because it helps to align the lower three chakras for a strong, stable energetic foundation. If you are someone who is easily ungrounded, 'spaced out' or has difficulty acting upon intuitive guidance, this would be a really helpful essence for you.
We first made an essence from the Loosestrife flowers over twenty years ago, and in our experience it is one of the best essences for grounding and energetic alignment
The Way Loosestrife Grows Tells Us About The Flower Essence
If you have a pond in your garden, the chances are that you will probably have a clump of Purple Loosestrife ( Lythrum salicaria ) growing somewhere around the boggy margins of it.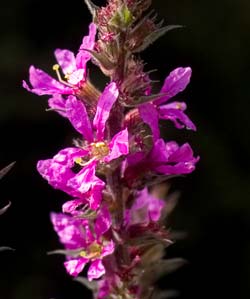 Loosestrife's tall, purple spires of flowers can also be found in unspoilt areas of the countryside growing wild in damp ditches and hedgerows. It's native to the UK and is usually in flower between June and August each year. The purple loosestrife we make an essence from is not to be confused with yellow loosestrife which is a different plant and flower essence.
Loosestrife has roots that grow deep into the mud and water of ditches and pond margins while its beautiful, purple spires of flowers reach for the sky. As a plant, it needs the stability provided by its deep root system in order to be able to support those tall stems of flowers that look so picturesque and inviting.
Understanding a plant in this way is called the doctrine of signature.
When the flowers of the Loosestrife plant are made into a flower essence, the qualities of grounding and stability are transferred from the plant to the essence and are then transmitted to you when you take the essence.
Loosestrife Is a Great Essence for Grounding & Stability
As a flower essence, Loosestrife helps to promote greater balance and alignment between the base, sacral and solar plexus chakras. When these lower three chakras function together as a unit, they provide us with a strong, stable energetic foundation.
Just like plants need a sufficient root system to support the flowers they produce, we also need a strong, energetic foundation in order to activate and fully use our higher chakras.
Without the stability provided by our 'roots' it is difficult for us to ground higher inspiration or intuitive ideas and bring them fully into manifestation in the world.
Is Loosestrife a Good Flower Essence for You?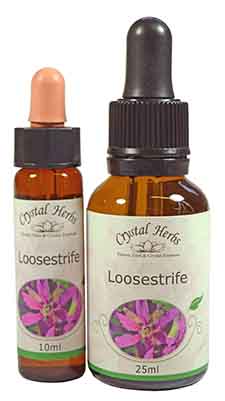 In our extensive experience of using this essences, Loosestrife is an excellent essence if you easily become spaced out or ungrounded, have difficulty staying focussed in the present moment, or would like to expand your connection with your multi-dimensional self to experience the vastness of who you really are.
If you are a heart centred, intuitive soul currently struggling a little to bring your unique gifts into the world in a tangible, manifest form, Loosestrife is the essence for you. It will help to strengthen and align your energetic foundations so that there is a completed circuit that will allow more of who you are to anchor into physical form.
Loosestrife flower essence also aligns the etheric, mental and spiritual bodies, which you may experience as a greater sense of energetic balance and integration in your system.
Create a New Reality with Loosestrife Flower Essence
Loosestrife is a very supportive essence for dreamers and visionaries who want to create a new reality but feel unable to turn their ideas into action.
Loosestrife will help you to stay grounded, aligned and connected to your own stream of intuitive knowing so you can keep focused on the new reality you wish to experience.
Things have to change so that something new can be created to take the place of what is old and complete. We can best contribute to this by staying grounded and connected to ourselves so we can receive the inner guidance and inspiration that we are here to share. Loosestrife is an excellent essence to support this process.
Loosestrife flower essence will help you to maintain energetic balance and stability during times of intensity, chaos and change, so you can contribute your higher vision to the collective process of transformation that is underway.
We find that taking Loosestrife at the start of any visioning, manifesting or creation process is a powerful way to help to ground and create your vision.
Keywords: Balance | Grounding | Strong foundations | Manifesting
How to use
You can use Loosestrife very effectively as a single essence on its own. A good dose for most adults is four drops on the tongue 4 x a day, straight from the stock bottle. For best results take consistently for a period of two to four weeks or until the bottle is finished..
It is also very effective mixed into a stock combination with other deep acting Flower, Gem or Crystal essences if you want to focus on an issue in more depth.
Over the years we have found Loosestrife such a helpful essence that we include it in quite a few of our combination essences.
It is an essence in the following combinations:
It is also one of the 20 single flower essences in our Flower Essence Collection Set which contains the 20 flower essences that we find people need most.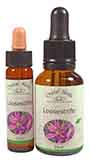 Essence Range: Single Flower Essences
Adult How to Use: Four drops on the tongue 3 – 4 x a day… Full How to Use
Essence Type: Single Flower Essence | Stock Level
Share Your Experiences…
We hope you've enjoyed our exploration of the Loosestrife Flower Essence. We'd love to hear your experiences of working with this essence so please do leave us a comment and share your experiences!
Find More Useful Essences for Grounding
You can learn more about the best essences for grounding here: 7 Signs You're Ungrounded & the Best Essences for Grounding.
Crystal Herbs is a specialist Flower Essence producer and we're passionate about all aspects of Vibrational Essences. We have been making and selling our range of Essences for nearly 30 years and have customers all over the world. All of our essences are handmade with love & care and alongside the Essences that we offer we also provide help, support and information about vibrational Essences. Crystal Herbs is run by Catherine Keattch and Sam Cremnitz, along with a dedicated team who are all trained practitioners and healers in their own right. More About Crystal Herbs | Contact Us