Auric Protection & Over-Sensitivity
Our focus for this month's Essence Review is on our Yarrow Flower Essence, one of our large collection of single Flower Essences. It is also one of the Essences included in our Flower Essence Collection Set.
Yarrow Flower Essence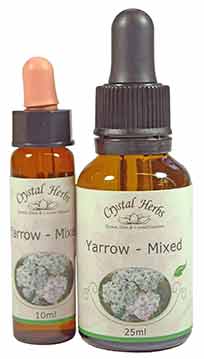 Yarrow is a wild flower that is often to be seen waving to us from roadside verges, meadows and heathlands during the summer months. It can be found with both white and pink colourations and has long been used as a medicinal herb, as well as being dried for making teas.
Made into a flower essence Yarrow has some very helpful properties that make it a particularly useful essence for many people. Yarrow essence strengthens the aura and provides protection from negative influences of all kinds, including background radiation, psychic attack from negative thought forms and oversensitivity to strong emotional reactions. Yarrow has an umbrella shaped flowerhead with an unusual angular arrangement of flower clusters that form an energetic patterning disruptive to these unwanted influences.
Pink & White Yarrow – When to Use
The pink flowers are especially good for those who are particularly sensitive to negative thoughts and emotions, while the white flowers give better protection against unwanted environmental energies. From experience, we have found that these two essences work particularly well together so as well as Pink Yarrow and White Yarrow we have made an essence from both colours together which you will find in the shop as Yarrow Mixed.
How to Use the Yarrow Essence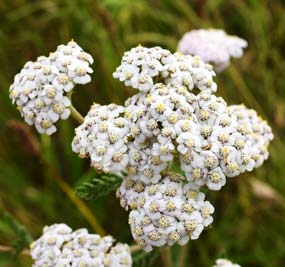 Yarrow works extremely well taken as a single essence on its own. An effective dose for most adults is four drops on the tongue 4 x a day, straight from the stock bottle. For best results take consistently for a period of two to four weeks. It is also very effective mixed into a stock combination with other deep acting Flower, Gem or Crystal essences if you want to focus on an issue in more depth.
Yarrow in Combinations
Mixed Yarrow essence is included in our Auric Protection combination & Auric Protection Spray and White Yarrow essence is used in the Environmental Stress combination and spray.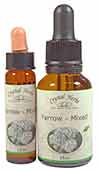 Essence Range: Single Flower Essences
Adult How to Use: Four drops on the tongue 3 – 4 x a day… Full How to Use
Essence Type: Single Flower Essence | Stock Level
Help & Advice
If you need any help or advice with this Essence, or if you'd simply like to talk to someone about whether this would be the right Essence for you, please do contact us and we'd be please to help – Contact Us
Share Your Experiences…
We hope you've enjoyed our exploration of the Yarrow Flower Essence. We'd love to hear your experiences of working with this essence, so please do leave us a comment and share your experiences!
Catherine is a director at Crystal Herbs and has been with us since the early 1990's. She is a trained essence practitioner, energy healer, teacher and workshop leader. She loves creating vibrational essences and greatly enjoys making the mother tinctures that allow us to provide our wide range of flower, gem & crystal essences. Her passion is to provide the knowledge, wisdom and tools that will support others to find greater harmony, well-being and spiritual fulfilment in their lives.