Joy & Playfulness: the lovely Just Joey Rose Essence carries the vibrations of joy and playfulness. It works through the heart chakra to help those who need to expand the qualities of joy and creativity in their lives.
Joy & Playfulness – Discover the Just Joey Flower Essence
Just Joey is the flower essence to use when you want to experience the vibration of joy an playfulness more fully in your life
So the focus for this month's essence review is the Just Joey Rose essence from our
Rose Collection Essences
.
June is the month for enjoying the roses here in the UK and it is one that we look forward to each year with anticipation. This year we have the most stunning display of roses of all shapes and colours in our garden and we are enjoying their fragrance and vibrational frequency to the full as much as we can.
Taking a little time out to sit amongst the roses in your garden or in your local park can be so nurturing to the spirit as well as calming for the everyday mind. When we consciously connect with them Roses speak to us through the heart and remind us of our divinity and connection to the Whole.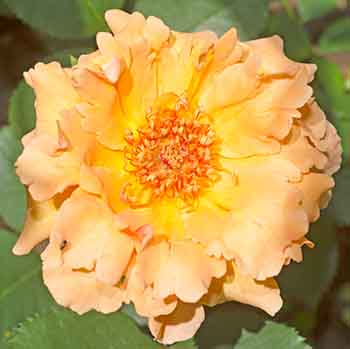 The process of transformation that we are all going through is speeding up and there are currently many streams of reality operating on our planet, all of them related to a particular level of consciousness or set of vibrational frequencies.
It is our choice of frequency that aligns us with a particular reality, which in turn provides us with experiences and opportunities in life. Currently we are all learning how to anchor the vibrational frequencies that will expand our experience of fifth dimensional unity consciousness.
Unity consciousness is a heart-based consciousness and contains many vibrational frequencies that have not been readily available to us while emersed in third dimensional polarity consciousness. Joy is one of those frequencies.
Inviting in Joy
Joy is a vibration that is now readily available to us if we focus on inviting it into our lives, yet it is also one that we may not actually have experienced much other than in relatively fleeting moments in life.
It is a vibration found in the heart and to be able to bring it more into our everyday life we first have to consciously commit to living from the heart by granting ourselves permission to be joyful. Anything that we focus on will magnify and joy is no exception.
Vibrational essences made from roses can be particularly helpful in this process as they each offer us a different way of opening our awareness to the many qualities of vibration held within the heart.
Just Joey Rose Flower Essence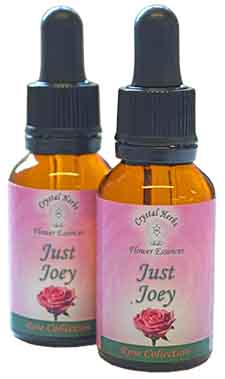 Just Joey is the most beautiful, vibrant, orange coloured rose that positively lights up the garden with its energy and presence. When it is made into a flower essence it brings a focus to the vibrations of joy and playfulness. Just Joey is the essence to use when you want to experience the vibration of joy more fully in your life.
Let it open your heart and expand your capacity to feel the simple joy of just being alive. It's vibrations will help to dispel any lower vibrational frequencies that might be diminishing your capacity to be joyful as well as stimulating creativity and freedom to be yourself.
How to Use
Just Joey essence works extremely well taken as a single essence on its own. An effective dose for most adults is four drops on the tongue 4 x a day, straight from the stock bottle.
For best results take consistently for a period of two to four weeks. It is also very effective mixed into a stock combination with other deep acting Flower, Gem or Crystal essences if you want to focus on an issue in more depth.
Just Joey essence is one of the essences included in the Divine Harmony combination Spontaneity; freeing the inner child.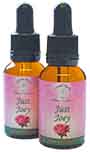 Essence Range: Rose Collection Flower Essences
Adult How to Use: 2 sprays on the tongue up to 4 x a day… Full How to Use
Essence Type: Single Flower Essence | Stock Level
Share Your Experiences…
We hope you've enjoyed our exploration of the Just Joey Flower Essence. We'd love to hear your experiences of working with this essence so please do leave us a comment and share your experiences!
Catherine is a director at Crystal Herbs and has been with us since the early 1990's. She is a trained essence practitioner, energy healer, teacher and workshop leader. She loves creating vibrational essences and greatly enjoys making the mother tinctures that allow us to provide our wide range of flower, gem & crystal essences. Her passion is to provide the knowledge, wisdom and tools that will support others to find greater harmony, well-being and spiritual fulfilment in their lives.
More About Catherine Keattch | All Blog Articles | All Videos