Creativity Essence Review
Our Essence Review for February is for the Creativity Essence from the Divine Harmony Essences. This is a wonderful combination for helping you to express your creativity, recognise your individuality and feel free to be a full and free expression of yourself.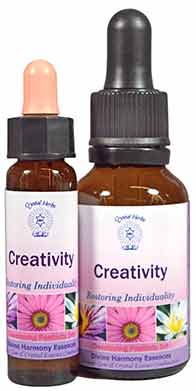 Essence Range: Divine Harmony Essences
Adult How to Use: Take four drops on the tongue 2 – 4 times a day. Full How to Use
Essence Type: Flower, Gem & Crystal Essence Combination | Stock Level
Expanding Opportunities
The energy flow that we currently live in is presenting us all with some wonderful opportunities for transforming and expanding our consciousness. The ongoing waves of high frequency light flowing into our planet over the last few years have been gradually working their way into our energy fields and physical bodies, raising the vibratory rate of the light particles that we are made from to new levels.
As a result the connection to our multi-dimensional self is much more present and available to us if we choose to pay attention to it. With this connection comes a greater awareness of ourselves as a creative force in the world. Each of us is a unique aspect of the All That Is and carries gifts that we have brought with us into this incarnation to bring forward at this time of change and transformation.
Allowing Inspirational Flow
These gifts do not fit into the old ways of life that we are leaving behind, rather they are templates that will help to co-create a new more expanded version of reality. This means that we need to honour own uniqueness and allow the flow of creative inspiration the opportunity to move us in new directions, outside of the box we have come to recognise as 'reality'.
Learning to do this is a work in progress for most of us right now. When we listen to ourselves and allow the flow of inspiration to take us forward, then everything works well. However, there can be times when this flow feels very illusive and we find ourselves going round and round in an old 'story' of limitation, restriction, and resistance.
When you recognise that you have temporarily moved away from yourself into some old 'stuff' just stop and take a breath to reconnect with yourself. This would also be an excellent time to take the Creativity combination to help you dissolve the old stories and reconnect with your inspiration and flow.
The Creativity Combination
The Creativity combination is a powerful blend of flower, and gem/crystal essences specifically designed to help restore your connection to your uniqueness and inspirational flow. It contains the following essences: Rosemary, Tulip – Flaming Parrot, Tigers Eye, Chalcedony, Gypsum, Zoisite & Shattukite.
Indications that it might be particularly helpful include:
Feeling blocked and lacking creativity
No inspirational flow
Feeling disconnected from your true self
Difficulty valuing your uniqueness and individuality.
Feeling disillusioned and frustrated
It will promote:
A greater sense of inspiration and flow
Transformation of old 'stories' holding you stuck.
The ability to action new ideas.
Expansion of creative ideas
The ability to value yourself and the gifts you have to offer.
Please explore our Creativity & Inspiration page in the new themes section of our website to discover more essences and helpful information on this topic.

You can order a bottle in our shop here:
Creativity Essence
Or call us on – 01379 608059 (+44 1379 608059)
Share Your Experiences…
We hope you've enjoyed our look at the Creativity Essence. We'd love to hear your experiences of working with this essence or working with the related issues, so please do leave us a comment and share your experiences!

Catherine is a director at Crystal Herbs and has been with us since the early 1990's. She is a trained essence practitioner, energy healer, teacher and workshop leader. She loves creating vibrational essences and greatly enjoys making the mother tinctures that allow us to provide our wide range of flower, gem & crystal essences. Her passion is to provide the knowledge, wisdom and tools that will support others to find greater harmony, well-being and spiritual fulfilment in their lives.