The Dandelion Flower Essence Review
The lovely Dandelion Flower Essence ( Taraxacum officinale ) helps to release tension from the mental body, bringing calmness to an overly active mind, drawing you deeper into yourself and connecting you more fully with the present moment. Dandelion is one of the many single flower essences available in our repertory.
Dandelions
Although you can often find the odd Dandelion flowering at almost any time of the year, Spring is the time when you will usually find them flowering in profusion. Filling meadows and roadside verges with a bright yellow carpet of flowers as well as popping their heads up in lawns, flowerbeds and vegetable patches, they seem to be everywhere at this time of the year.
As any gardener will tell you a mature Dandelion plant has a substantial tap root anchoring it into the soil. It is perfectly designed to be able to pull mineral resources to support itself from deep within the earth.
It is a resilient plant that embodies the qualities of strength and stability. Dandelion is renowned for its healing qualities and has been used to enhance human wellbeing in a variety of different ways over the years.
Dandelion Flower Essence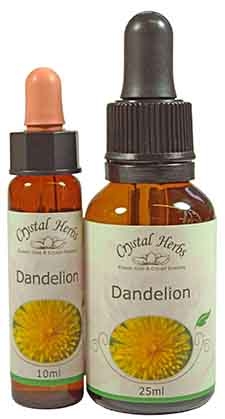 Made into a flower essence the humble dandelion continues to offer us much valuable assistance.
It is an excellent essence to help release tension from the mental body and bring calmness to an overly active mind. It will help you connect deep within yourself to pull on your own inner resources and encourage you to anchor firmly into the present moment.
This space of greater calmness creates an opportunity for difficult emotional issues to be seen and dissolved more easily, something that Dandelion Essence is very adept at assisting with.
When to Use Dandelion Essence
Use this essence when you need support to find a greater degree of inner resolve, focus and the ability to stay present in your everyday world.
It will gently help you to restore mental calmness and emotional stability so that you can see your own strength and assist you to tap into the resources that you have available to you when you stay present and connected.
Benefits: Emotional balance, relaxation, calmness, ease, wellbeing, connection with self, feeling present and connected, inner resolve, focus
Indications: Busy mind, tension, emotionally highly strung, avoids difficult emotions, over-active, likes to keep busy, can't switch off
Chakra / Subtle Bodies: Feet chakras, Solar Plexus chakra, Brow chakra
How to Use the Dandelion Essence
Dandelion works extremely well taken as a single essence on its own. An effective dose for most adults is four drops on the tongue 4 x a day, straight from the stock bottle. For best results take consistently for a period of two to four weeks.
It is also very effective mixed into a stock combination with other deep acting Flower, Gem or Crystal essences if you want to focus on an issue in more depth.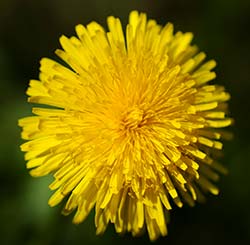 Dandelion Flower Essence is included in two of our combinations;
In our experience Dandelion is such a useful essence it is included in quite a few of our combination essences;
It is also one of the essences included in our Flower Essence Collection Set.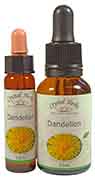 Essence Range: Single Flower Essences
Adult How to Use: Four drops on the tongue 3 – 4 x a day… Full How to Use
Essence Type: Single Flower Essence | Stock Level
See Also…
Do You Need Any Help or Advice?
If you need any help or advice with this Essence, or if you'd simply like to talk to someone about whether this would be the right Essence for you, please do contact us and we'd be please to help – Contact Us
Share Your Experiences…
We hope you've enjoyed our exploration of the Dandelion Flower Essence. We'd love to hear your experiences of working with this essence so please do leave us a comment and share your experiences!
Catherine is a director at Crystal Herbs and has been with us since the early 1990's. She is a trained essence practitioner, energy healer, teacher and workshop leader. She loves creating vibrational essences and greatly enjoys making the mother tinctures that allow us to provide our wide range of flower, gem & crystal essences. Her passion is to provide the knowledge, wisdom and tools that will support others to find greater harmony, well-being and spiritual fulfilment in their lives.
More About Catherine Keattch | All Blog Articles | All Videos