Inner Strength Essence Review
Our focus for this month's Essence Review is the Inner Strength combination from the Divine Harmony Essences.
Recently the level of turbulence, chaos and upheaval in our world seems to have hit new heights as everything, including our physical bodies, adjusts to the rapidly rising frequencies on our planet. The transition from a third to a fifth dimensional reality is now well under way and if we stay aligned with the process many new possibilities will become available to us as a result.
The energetic 'picture' that the Inner Strength combination provides for us, is one of inner resolve, determination, focus, strength, and courage.
For those of us that are awake and aware, the job in hand is one of steadily raising our vibrational frequency until it resonates comfortably with fifth dimensional unity consciousness. To achieve this, we must continually remember to see beyond the old third dimensional belief systems and disengage from the collective agreement about how things work on our planet so that something new can be created.
Exciting as this is from a spiritual perspective, it is certainly not without its challenges at a human level. Strength, determination, inner resolve, and courage are all required if we are to stay connected to our own light and truth amongst the chaos of change.
Vibrational essences can be wonderfully supportive when it comes to providing us with a positive template for any frequencies we might wish to embody more fully. Combinations of deep acting flower, gem & crystal essences can be particularly effective here.
Rather like a beautiful painting or an evocative piece of music a carefully constructed combination of essences can provide you with an energetic picture of the positive qualities that you would like to bring into your life more fully.
When we feel in need of a boost to our reserves of determination, inner resolve, and courage we always turn to the Inner Strength, restoring inner resolve combination for some support.
The Inner Strength Combination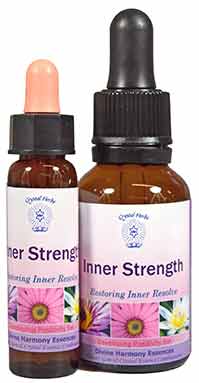 The energetic 'picture' that the Inner Strength combination provides for us, is one of inner resolve, determination, focus, strength, and courage.
This is an excellent essence to take when you find yourself facing a challenge in life that appears to require more strength and determination than you feel you can muster up in that moment.
Maybe you have scattered your energetic resources too widely and are now feeling rather disconnected from yourself, depleted, or lacking in resolve. Maybe you have a belief pattern that unhelpfully informs you that you are not strong enough or capable enough, so you have a habit of scattering your focus rather than drawing on your inner resolve to find a way to deal with the situation that is presenting itself.
The Inner Strength combination will remind you of how it feels to be centred, grounded, connected, courageous, and filled with inner resolve and strength. It will also help to clear away any vibrational frequencies that might be blocking your experience of these positive qualities and help you to establish them more fully into your personal library of positive resources, ready to be called upon when needed.
At a time when we are all being called out of our comfort zones to stand more fully in the truth and light of our soul's purpose, this is a combination that all of us could find helpful from time to time over the coming year or so.
The Inner Strength combination contains the following essences; Rosa Sunblest, Yellow Water Lily, Dandelion, Datura, Cuprite & Chalcopyrite.
How to Use
An effective dose for most adults is four drops on the tongue 4 x a day, straight from the stock bottle. For best results take consistently for a period of two to four weeks.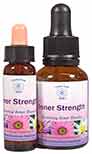 Essence Range: Divine Harmony Essences
Adult How to Use: Four drops on the tongue 3 – 4 x a day… Full How to Use
Essence Type: Flower, Gem & Crystal Essence Combination | Stock Level
Share Your Experiences…
We hope you've enjoyed our exploration of the Inner Strength Essence. We'd love to hear your experiences of working with this essence so please do leave us a comment and share your experiences!
Catherine is a director at Crystal Herbs and has been with us since the early 1990's. She is a trained essence practitioner, energy healer, teacher and workshop leader. She loves creating vibrational essences and greatly enjoys making the mother tinctures that allow us to provide our wide range of flower, gem & crystal essences. Her passion is to provide the knowledge, wisdom and tools that will support others to find greater harmony, well-being and spiritual fulfilment in their lives.
More About Catherine Keattch | All Blog Articles | All Videos