The subject of this month's essence review is the Female Essence; strengthening feminine combination from our Divine Harmony Essences.
Balancing the Inner Feminine
Whether we currently have a female or male body type, we all have feminine aspects as part of our energetic makeup. Our male and female energies both need to be balanced and accepted as equal aspects of ourselves so that they can work together as a team. This partnership is fundamental to greater wholeness and the ability to integrate with our multidimensional selves.
Recently the spotlight on the world stage has begun powerfully illuminating those areas of life in which feminine issues require a focus of healing attention. It is important that feminine energies are now allowed to heal and take a balanced place within all societies around the world. Only then will the masculine aspect of life be able to fully heal and come into its own balance.
Supporting the Feminine Within
The same process of illumination that is obvious in the outer world is also at work in our personal inner world. We are currently all being asked to look deep within ourselves to resolve any issues or mis-perceptions that do not allow us to fully honour and accept our own feminine nature.
Feminine qualities include creativity, intuition, inner wisdom, open heartedness, cooperation and sharing. In recent history many of these attributes have been considered 'lesser' than those that stem from logic & scholarly knowledge. In recent history, suppression, persecution and control of the feminine has been the norm, resulting in major imbalances in the expression of both energies.
The Female Essence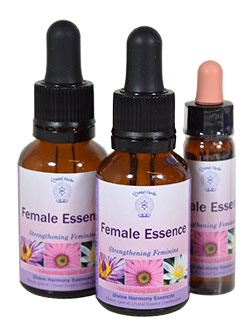 The Female Essence; strengthening feminine is a mix of Pomegranate, Rubellite, Rhodonite, Morganite, Icosahedron & Clear Quartz. This stock combination of deep acting flower and gem essences is specifically designed to help you strengthen your inner feminine energies as well as clear away any issues that unconsciously restrict your ability to fully embody this aspect of your nature.
When to Use The Female Essence
A wounded feminine can sometimes make herself known in the shape of a difficult relationship with the birth mother or mother figures in general. Resistance to fully honouring feminine qualities such as intuition, nurturing and creativity within yourself or others, together with a sense of injustice, anger or perhaps fear around the way women have been treated in the past, might also be indications of damage to your inner feminine energy.
How to Use
An effective dose for most adults is 4 drops on the tongue 3 or 4 x a day taken consistently until the bottle is finished.
Essence Range: Divine Harmony Essences
Adult How to Use: Four drops on the tongue 3 – 4 x a day… Full How to Use
Essence Type: Flower, Gem & Crystal Essence Combination | Stock Level
See Also:
Share Your Experiences…
We hope you've enjoyed our exploration of the Female Essence. We'd love to hear your experiences of working with this essence, creating an experiential mandala or listening to the meditation so please do leave us a comment and share your experiences!
Catherine is a director at Crystal Herbs and has been with us since the early 1990's. She is a trained essence practitioner, energy healer, teacher and workshop leader. She loves creating vibrational essences and greatly enjoys making the mother tinctures that allow us to provide our wide range of flower, gem & crystal essences. Her passion is to provide the knowledge, wisdom and tools that will support others to find greater harmony, well-being and spiritual fulfilment in their lives.
More About Catherine Keattch | All Blog Articles | All Videos