Snowdrop Essence
The lovely Snowdrop Flower Essence is all about coming to terms with the pain of bereavement, separation, sadness and loss, and it helps to restore a sense of hope and joy for the future.
Snowdrops – Beautiful Spring Flowers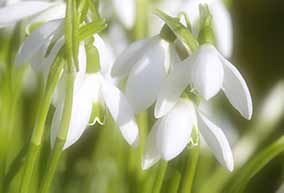 Discovering the first snowdrops of the year shyly flowering in the garden is always an exciting and uplifting experience. Along with the yellow Aconite the Snowdrop is one of the very first flowers of Spring, so if you have not yet seen any, now is the time to go looking for them. Around us here there are many Snowdrops now out in flower, some of the most spectacular forming large white carpets in untouched areas of field and woodland. Spring truly is just around the corner!
While they might look delicate and fragile the Snowdrop is really a very resilient plant that will continue to flower regardless of typical February weather conditions, which are so often cold, icy and snowy. Snowdrop leaves have specially hardened tips to help them break through frozen ground and the sap of the plant is designed by nature to be resistant to freezing temperatures.
These qualities of resilience, renewal and hope that the Snowdrop embodies as a plant are also carried over into the flower essence.
Snowdrop Flower Essence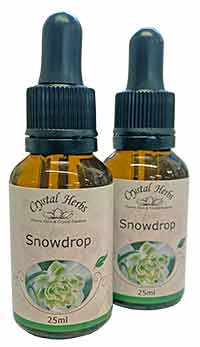 Snowdrop Flower Essence helps relieve the pain of bereavement, separation, sadness and loss.
It gently reminds us that we are stronger than we think and helps us to find the inner reserves of strength necessary to carry on through difficult emotional times. Slowly but surely it will assist us to dissolve grief and emotional pain, freeing us up to open our hearts more fully again.
Over time this essence will stimulate the renewal of hope for the future and remind us how to take pleasure in the simple joy of being alive, no matter how hard the circumstances we experience might appear.
When to Use
Snowdrop essence can be used very effectively in any situation where you feel in need of emotional support because of bereavement, grief, loss or separation. It is also a helpful essence to take when you need to boost your reserves of inner strength and resilience in order to cope with difficult emotional experiences like loss and bereavement.
How to Use
Snowdrop works extremely well taken as a single essence on its own. An effective dose for most adults is four drops on the tongue 4 x a day, straight from the stock bottle. For best results take consistently for a period of two to four weeks.
It is also very effective mixed into a stock combination with other deep acting Flower, Gem or Crystal essences if you want to focus on an issue in more depth.
Snowdrop is included in our Healing Bereavement combination ( in-depth Essence Review here: Transforming Grief: the Healing Bereavement Essence ), which is part of the Divine Harmony, Transforming Core Emotions set.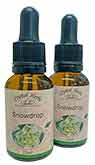 Essence Range: Single Flower Essences
Adult How to Use: Four drops on the tongue 3 – 4 x a day… Full How to Use
Essence Type: Single Flower Essence | Stock Level
Do You Need Any Help or Advice?
If you need any help or advice with this Essence, or if you'd simply like to talk to someone about whether this would be the right Essence for you, please do contact us and we'd be please to help – Contact Us
Share Your Experiences…
We hope you've enjoyed our exploration of the Snowdrop Flower Essence. We'd love to hear your experiences of working with this essence so please do leave us a comment and share your experiences!
Catherine is a director at Crystal Herbs and has been with us since the early 1990's. She is a trained essence practitioner, energy healer, teacher and workshop leader. She loves creating vibrational essences and greatly enjoys making the mother tinctures that allow us to provide our wide range of flower, gem & crystal essences. Her passion is to provide the knowledge, wisdom and tools that will support others to find greater harmony, well-being and spiritual fulfilment in their lives.
More About Catherine Keattch | All Blog Articles | All Videos