The Chestnut Bud remedy is for those who find it difficult to learn from their mistakes, often repeating the same mistakes over and over again.
Chestnut Bud – Bach Flower Remedy
Chestnut Bud helps those who need to focus more fully on their current life experiences in order to move forward.
Those in need of Chestnut Bud appear to repeat the same old life situations over & over again, seemingly unable to assimilate the lesson in the experience that would allow them to move on. An example might be someone who finds themselves in a cycle of destructive relationships but cannot seem to make the inner changes that would allow them to disentangle themselves.
Chestnut Bud is a generally helpful remedy for anyone who finds it difficult to take in information in any form.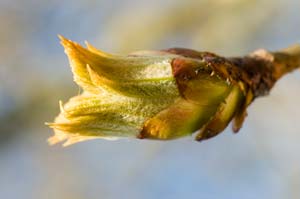 "This Remedy is to help us to take full advantage of our daily experiences, and to see ourselves, and our mistakes as others do."
Dr Edward Bach
Dr Bach's description of Chestnut Bud:-
"For those who do not take full advantage of observation and experience, and who take a longer time than others to learn the lessons of daily life. Whereas one experience would be enough for some, such people find it necessary to have more, sometimes several, before the lesson is learnt. Therefore, to their regret, they find themselves having to make the same error on different occasions when once would have been enough, or observation of others could have spared them even that one fault." From the Twelve Healers & Other Remedies – By Dr Edward Bach ( 1936 edition )
For more information on how to use the Bach Flower Remedies, please see Choosing & Using Bach Flower Remedies
Chestnut Bud
The Latin Name for Chestnut Bud is:- Aesculus Hippocastanum
Dr Bach placed Chestnut Bud in the Lack of Interest Group
Chestnut Bud is made by Dr. Bach's boiling method of potentisaton.
The Horse Chestnut Tree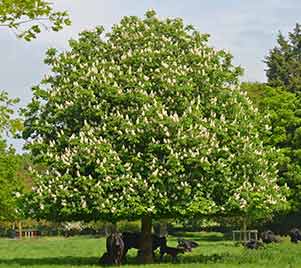 The Chestnut Bud remedy is made from the spring buds of the Horse Chestnut tree. This beautiful tree first came to Britain in the 1600s and has since become a familiar part of the landscape in the U.K. and is often to be found in parks, gardens and alongside roads. The Horse Chestnut tree producers beautiful shiny brown conkers which fall to the ground in autmun in their spiky green cases – a familiar sight of childhood. Dr Bach also used this tree to make his White Chestnut remedy.
The Bach Flower Remedies
The Bach Flower Remedies are a wonderful set of remedies that can help you to achieve greater balance & harmony in your life in a simple, natural & effective way. There are 38 Remedies to help you to balance 38 different states of mind & emotion.
You can find out more about the 38 Bach Flower Remedies here and more about our Bach Flower Remedies here.

Essence Range: Bach Flower Remedies
Adult How to Use: For more information on how to use the Bach Flower Remedies, please see Choosing & Using Bach Flower Remedies
Essence Type: Single Bach Flower Remedy | Stock Level
Share Your Experiences…
We hope you've enjoyed our exploration of the Chestnut Bud Remedy. We'd love to hear your experiences of working with this essence, creating an experiential mandala or listening to the meditation so please do leave us a comment and share your experiences!
Crystal Herbs is a specialist Flower Essence producer and we're passionate about all aspects of Vibrational Essences. We have been making and selling our range of Essences for nearly 30 years and have customers all over the world. All of our essences are handmade with love & care and alongside the Essences that we offer we also provide help, support and information about vibrational Essences. Crystal Herbs is run by Catherine Keattch and Sam Cremnitz, along with a dedicated team who are all trained practitioners and healers in their own right. More About Crystal Herbs | Contact Us