Inner Unity Essence
Male/ Female integration – the Inner Unity Essence helps you to integrate and unite your inner masculine & inner feminine polarities. It helps to promote yin and yang integration and helps you to find greater balance in personal relationships. It is a good support for where there are rejection or abandonment issues and helps to encourage a greater soul connection.
Evolving Consciousness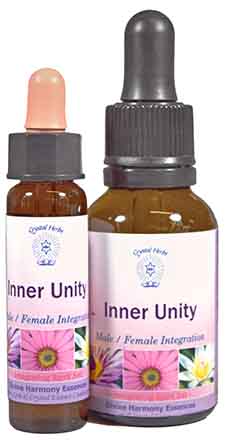 As our consciousness expands in the ever increasing flow of high frequency light and unconditional love that is flowing onto the planet right now we are all waking up, so much so that our perspective of life is changing on an almost daily basis.
Contained within the light that we are receiving are new templates and energetic constructs that will continue to change us from the inside out until our lower self becomes a true reflection of our divine self. As a consequence anything that is out of resonance with the new template is becoming much more obvious.
Integrating Your Inner Male & Female Energies
One of the issues that is particularly in focus at the moment is the need for greater balance and integration between those energies that we recognise as masculine and those that we recognise as feminine. We can see the imbalance that has developed in this polarity displayed in every aspect of life everywhere around the world right now. Clearly change is overdue and that change has to begin from within each one of us as individuals before lasting change can manifest in our collective reality.
Unity Consciousness
If we look at the energies of masculine and feminine from the perspective of unity consciousness they are simply different but equal expressions of the One Life and both are needed to create a balanced, harmonious expression of that One Life. We each have both of these energies as part of our energetic makeup regardless of the gender of the body we happen to be inhabiting.
From the perspective of unity consciousness, masculine and feminine energies are simply different but equal expressions of the One Life and both are needed to create a balanced, harmonious Life
Many people are currently experiencing a rebalancing of these energies within themselves as part of the transition that we are all going through. Old outmoded gender based belief patterns are coming into awareness for transformation together with related and often uncomfortable emotional issues. This process can sometimes take us by surprise as the issues that are arising often come into the category of 'I thought I had already dealt with this ages ago'. If this is your experience recognise that you did deal with it before but a new layer is surfacing because now there is an opportunity to make changes of a much more fundamental nature.
The Inner Unity Essence
The Inner Unity combination is a deep acting combination of Flower, Gem & Crystal Essences that has been specifically formulated to provide support for those dealing with the issues that often arise when greater balance and harmony between the inner male/female energies is needed. Typically a lack of unity between these two energies will have us searching for the rejected energy in our outer relationships, a situation that leads to co-dependency, dis-empowerment, unhappiness and a sense of inner emptiness. Authority figure issues, control patterns and that uncomfortable game of victim, persecutor and rescuer that has been such a large part of the old patterning are also issues that might surface as you seek to bring greater balance to this polarity. In this situation the Inner Unity combination is exactly what you need to help you release and move on with ease.
How to Use
An effective dose for most adults is 4 drops on the tongue 3 or 4 x a day taken consistently until the bottle is finished.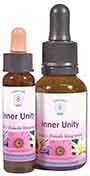 Essence Range: Divine Harmony Essences
Adult How to Use: Four drops on the tongue 3 – 4 x a day… Full How to Use
Essence Type: Flower, Gem & Crystal Essence Combination | Stock Level
See Also…
Do You Need Any Help or Advice?
If you need any help or advice with this Essence, or if you'd simply like to talk to someone about whether this would be the right Essence for you, please do contact us and we'd be please to help – Contact Us
Share Your Experiences…
We hope you've enjoyed our exploration of the Inner Unity Essence. We'd love to hear your experiences of working with this essence so please do leave us a comment and share your experiences!
Catherine is a director at Crystal Herbs and has been with us since the early 1990's. She is a trained essence practitioner, energy healer, teacher and workshop leader. She loves creating vibrational essences and greatly enjoys making the mother tinctures that allow us to provide our wide range of flower, gem & crystal essences. Her passion is to provide the knowledge, wisdom and tools that will support others to find greater harmony, well-being and spiritual fulfilment in their lives.
More About Catherine Keattch | All Blog Articles | All Videos