Clearing Unknown Fears… Last month we focused on Agrimony from the Bach Flower Remedies range, and this month its the turn of Aspen. The beautiful energies of the Aspen remedy help us to feel unafraid of the unknown, and it is one of those remedies that so many people find helpful.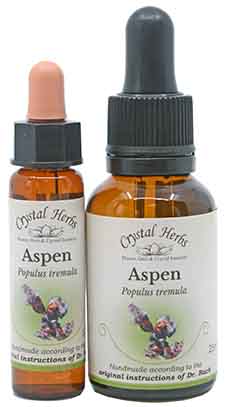 Essence Range: Bach Flower Remedies
How to Use: Choosing & Using the Bach Flower Remedies
Essence Type: Single Flower Essence | Stock Level
Aspen – Bach Flower Remedies
Aspen helps those who experience anxiety for which there appears to be no logical reason. This can take the form of vague but potent apprehension of some unknown future event or an uneasy 'spooked out' feeling in the dark or in strange places. The creepy, shivery feeling that is sometimes described as 'someone just walked over my grave' expresses the Aspen fear of the spirit / psychic realms very well. Shaking, trembling, or vague fluttering feelings in the tummy together with coldness, paleness & nightmares are all indications of the need for Aspen.
Dr Bach's description of Aspen:-
"Vague unknown fears, for which there can be given no explanation, no reason. Yet the patient may be terrified of something terrible going to happen, he knows not what. These vague unexplainable fears may haunt by night or day. Sufferers often are afraid to tell their trouble to others." From the Twelve Healers & Other Remedies – By Dr Edward Bach ( 1936 edition )
How to Use
For more information on how to use the Bach Flower Remedies, please see Using and Choosing Bach Flower Remedies
Dr. Bach's Seven Main Groups
Dr Bach placed Aspen in the Fear Group
More About Aspen
The Latin Name for Aspen is:- Populus Tremula
It is prepared by the boiling method of potentisation.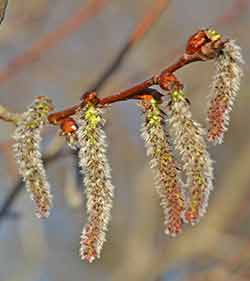 Aspen is a beautiful and slender tree with a canopy of shimmering leaves. It can grow up to 25 metres tall and the bark is often pitted with diamond-shaped pores.
"Trembling, fluttering and shimmering in the slightest breeze. The rippling leaves of this beautiful tree give it its name: quaking aspen". Woodland Trust
About the Bach Flower Remedies
The Bach Flower Remedies are a set of 38 flower essences which can be used to help you to achieve greater balance and harmony in your life. They work to balance how you are thinking and feeling and can very quickly help to restore a sense of balance and perspective within yourself. They are simple, effective and easy to use and they can be given to adults, children, pets and plants. You can find out more here: Bach Flower Remedies
Working with Fear
If you would like something deeper acting as a complement, you could also try an Inner Calm Essence or a Pink Rose Essence – this helps to clear and release blocked fears.
*****
Share Your Experiences…
We hope you've enjoyed our look at Aspen. We'd love to hear your experiences of working with this essence or working with the related issues, so please do leave us a comment and share your experiences!
Crystal Herbs is a specialist Flower Essence producer and we're passionate about all aspects of Vibrational Essences. We have been making and selling our range of Essences for nearly 30 years and have customers all over the world. All of our essences are handmade with love & care and alongside the Essences that we offer we also provide help, support and information about vibrational Essences. Crystal Herbs is run by Catherine Keattch and Sam Cremnitz, along with a dedicated team who are all trained practitioners and healers in their own right. More About Crystal Herbs | Contact Us