Blue Moon Flower Essence
Our focus for this month's essence review is the Blue Moon Rose from our Rose Collection Essences. This unusually coloured rose has been blooming abundantly in our garden for the last few weeks and it has been calling out to me every time I visit that part of the garden.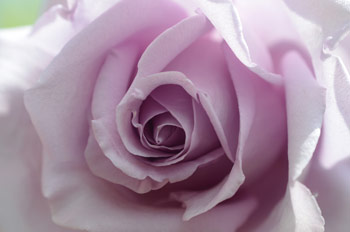 Essence Range: Rose Collection Essences
Adult How to Use: Spray liberally into the auric field to create a quick, effective energetic realignment or use consistently over a period of time to support more permanent transformation . Full How to Use.
Essence Type: Single Flower Essence | Stock Level
Blue Moon's message is very clear: now is the time to align fully with the harmonics of the heart and to transform anything that is standing in the way of this.
The planetary energy flow is currently providing us with a huge opportunity for personal and collective transformation. In fact, it is positively and actively demanding it. Whether we are ready or not, all of our old issues that are not in vibrational alignment with unity consciousness are being brought into awareness for review and realignment.
The depth and breadth of these old imbalances can be seen clearly as they play out on the world stage in various uncomfortable ways. We also all have personal versions of these patterns hidden away within ourselves.
Those of us who are more awake and aware are currently being requested to take ownership of our own patterns of imbalance and allow them to transform so that a new more expanded version of reality can be anchored for all to align with when they are ready.
Hidden Heart Wounds
Some of our most uncomfortable issues stem from old heart wounds where we have perceived that we are not loved, not worthy, unwanted, rejected, misunderstood etc.
There are many ways in which these issues can be reinforced, ranging from a parent who is not able to be sufficiently open and loving to actual emotional or physical abuse during childhood. In order to cope under these circumstances, we gradually close our own hearts and hide aspects of ourselves away.
Often, we believe that there is something wrong with us and hide this belief away inside of ourselves. We then surround it by a defensive wall designed to stop us from being hurt again and to prevent others from seeing the flaws we believe we have.
These internal defences can create unconscious resistance that feels very real until we dismantle the internal barriers. If you find yourself dealing with uncomfortable patterns of resistance as you respond to the call to align with the harmonics of the heart, do checkout the Blue Moon Rose essence for support.
Blue Moon Rose Essence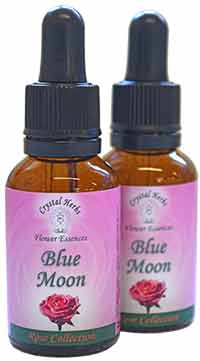 Flower Essences are powerful tools for inner change & transformation and the Blue Moon Rose essence is an excellent essence to take when you are working with an elusive blockage in the heart chakra. It will help to bring into consciousness those old painful issues that have been hidden away and relegated to the shadowy regions of consciousness.
As the essence helps to melt the resistance and dissolve the emotional pain it will be easier to allow what has been hidden to come into awareness for acceptance and transformation, leaving the heart chakra free to open more fully.
Dissolves hidden heart chakra blockages
Brings into awareness issues that need to be acknowledged
Helps to transform painful defences
Opens the heart chakra more fully
How to Use
Blue Moon Rose essence works extremely well taken as a single essence on its own. An effective dose for most adults is four drops on the tongue 4 x a day, straight from the stock bottle. For best results take consistently for a period of two to four weeks.
It is also very effective mixed into a stock combination with other deep acting Flower, Gem or Crystal essences if you want to focus on an issue in more depth.
Blue Moon Rose is one of the essences included in the Awakening the Heart combination from our Rose Collection Essences.
Blue Moon Flower Essence….
You can order in our shop here:
Blue Moon Flower Essence
Or call us on – 01379 608059 (+44 1379 608059)
Share Your Experiences…
We hope you've enjoyed our look at Blue Moon Rose. We'd love to hear your experiences of working with this essence or working with the related issues, so please do leave us a comment and share your experiences!
Catherine is a director at Crystal Herbs and has been with us since the early 1990's. She is a trained essence practitioner, energy healer, teacher and workshop leader. She loves creating vibrational essences and greatly enjoys making the mother tinctures that allow us to provide our wide range of flower, gem & crystal essences. Her passion is to provide the knowledge, wisdom and tools that will support others to find greater harmony, well-being and spiritual fulfilment in their lives.
More About Catherine Keattch | All Blog Articles | All Videos