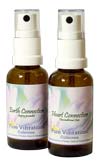 Vibrational essences sprayed into the auric field have a more instantaneous impact than a similar combination taken orally does and for this reason will very quickly help you to re-balance and realign your energy fields so that you can find that all important point of balance. They also do not work quite so deeply as a combination taken orally will and for that reason have proved very good for those sensitive souls who find it difficult to take deep acting combinations of essences internally for any length of time.
The Pure Vibrations Collection
The ten spray combinations in the Pure Vibrations Collection have been formulated to provide support with those issues that are the most commonly challenging ones for many people right now. Each one has its own special merits and we enjoy using them all, but if we were to recommend just one it would definitely be Positive Vibrations because we have found this to be such a versatile, helpful friend to have around in so many differing situations.
You can find them in the Flower Essence Shop here: Pure Vibrations Collection and we look forward to receiving your comments and feedback as you try them out!
Crystal Herbs is a specialist Flower Essence producer and we're passionate about all aspects of Vibrational Essences. We have been making and selling our range of Essences for nearly 30 years and have customers all over the world. All of our essences are handmade with love & care and alongside the Essences that we offer we also provide help, support and information about vibrational Essences. Crystal Herbs is run by Catherine Keattch and Sam Cremnitz, along with a dedicated team who are all trained practitioners and healers in their own right. More About Crystal Herbs | Contact Us