Learning to Trust & Allow – our Essence Review for June is for the Wild Iris Flower Essence. This is a really good Essence for those working with deep unconscious feelings of responsibility for the welfare of others or the planet. It's helpful for where there are unresolved power issues, the need to change others, to be in charge or feelings of deep responsibility.
Wild Iris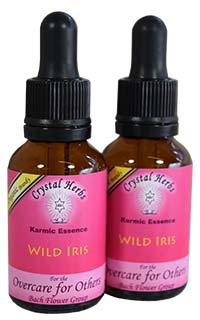 Wild Iris Flower Essence
Shop: Wild Iris Essence
Essence Range:
Karmic Flower Essences
How to Use:
Take four drops on the tongue 3 or 4 times a day. Full How to Use.
Wild Iris is one of the ten essences included in the Karmic Essence range. Seven of them relate directly to one of the personality groups identified by Dr. Bach. Each of these essences helps to release unconscious beliefs underpinning the surface personality issues in a particular personality group.
Wild Iris is the Karmic Essence that relates to the Over Care and Concern for Others group.
Dr. Bach's Over Care and Concern Group
The Bach Flower Remedies that Dr. Bach put into his 'Over Care and Concern' group are Beech, Chicory, Rock Water, Vervain and Vine. The underlying issue behind all the essences in this group is a misperception relating to responsibility and the balanced use of personal power and authority.
Learning to Trust and Allow
You might notice that people who need many of the essences in the Over Care and Concern Group generally have very deep-seated feelings of duty and responsibility for the welfare of others and the planet.
Often these feelings manifest as a belief that it is down to them to make everything 'better' in the world around them. Of course, there is nothing wrong with wanting to contribute to the greater good, however in an unbalanced state there can be a tendency to forget that everyone has free will and particularly that there is not just 'one way' – their way – that is 'right' while everything else is 'wrong'.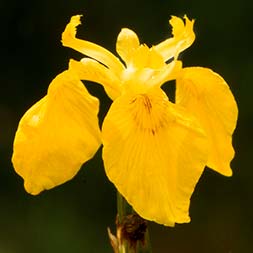 When this behaviour is very entrenched in the personality, it is usually the result of earlier lifetimes in which lessons relating to balanced authority and responsibility have not been fully learned. Unconsciously, the personality continues to try to 'fix' everything around them by subtly or unsubtly attempting to coerce, control or criticise others into doing what they consider right. Without realising it such a person is carrying a huge burden of responsibility that can never be fulfilled in the way that they are trying to achieve it. There is a great need for them simply to trust and allow that if they follow their own path to the best of their ability, others will do the same.
Help from Wild Iris Essence
Flower Essences are powerful tools for inner change & transformation and in our experience this is wonderful essence to help dissolve the deeply held, old belief patterns that lie beneath feelings of unrealistic responsibility. Particularly good where there are unresolved power issues, the need to change others or to be in charge is very strong, or feelings of over responsibility are taken to extremes.
How to Use the Wild Iris Essence
Take 4 drops 3 or 4 x a day directly from the stock bottle for as long as needed to create a shift in the energy of the pattern you are working with. The amount of time needed for this to happen can vary from a couple of days to a week or more depending on the circumstances. In our experience it is not unusual to finish a whole bottle before all possible transformation feels complete. We do not recommend giving Karmic Essences to children under 12 years of age.
Wild Iris Flower Essence – Click To Order Online
Or call us on – 01379 608059 ( +44 1379 608059 )
Help & Advice
If you need any help or advice with this Essence, or if you'd simply like to talk to someone about whether this would be the right Essence for you, please do contact us and we'd be please to help – Contact Us
Your Flower Essence Shop & Resource
Crystal Herbs Flower, Gem & Crystal Essences
Catherine is a director at Crystal Herbs and has been with us since the early 1990's. She is a trained essence practitioner, energy healer, teacher and workshop leader. She loves creating vibrational essences and greatly enjoys making the mother tinctures that allow us to provide our wide range of flower, gem & crystal essences. Her passion is to provide the knowledge, wisdom and tools that will support others to find greater harmony, well-being and spiritual fulfilment in their lives.
More About Catherine Keattch | All Blog Articles | All Videos