The Hyssop Flower Essence
Transforming Feelings of Guilt – our Essence Review this time is for the Hyssop Flower Essence. Hyssop alleviates deep feelings of guilt whether these are conscious or unconscious. It is only as we allow ourselves to confront the old memories to which our guilt is attached that we can begin to forgive ourselves and recognise that we have learned from the experience. This essence helps us to do this, releasing much mental and emotional tension in the process. Hyssop is one of the many single flower essences available in our repertory.
The Hyssop Flower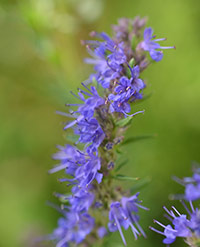 If you have a herb patch in your garden the chances are that you will have a Hyssop plant ( Hyssopus officinalis ) somewhere in a corner of it. Hyssop is an unassuming plant that will quietly flower for most of the summer and on into the autumn, it's pretty blue / purple flowers acting as a magnet for bees. However, when its flowers are made into a flower essence it becomes a powerful force for the transformation of the vibration of guilt.
Dealing With Guilt
Guilt is one of those deeply engrained patterns that affect all of us in one way or another. It is an inevitable result of living many lifetimes in polarity consciousness where right versus wrong constantly plays out in all its many forms. In this situation scant regard is usually given to the fact that one person's 'wrong' is another person's 'right' and that all experiences are valid.
Guilt has also been used by most religions down the ages to keep people disempowered and controllable. It sits at the bottom of many people's feelings of unworthiness as well as the reluctance to step into their power in case they 'do it wrong again'. Guilt is a powerful, uncomfortable energy that often goes unrecognised because it is usually deeply buried and difficult for us to own.
Help From the Hyssop Flower Essence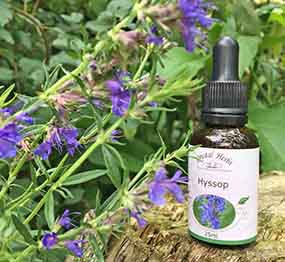 Hyssop is one of the few essences that can work at all levels of our being to help release the vibration of guilt. It is extremely good at bringing old memories into focus so that we can disentangle ourselves from feelings of guilt and self-blame. It will also help to release the mental and emotional tension that is so often the legacy of this difficult state.
Signs that you might benefit from taking hyssop include feeling as though things are your fault much of the time, worrying about doing something wrong, fear of being punished for getting it wrong, feeling responsible when 'bad' things happen, feeling that you are a 'bad' person, consciously or unconsciously punishing yourself, and apologising for things that are not your fault.
Benefits:
Forgiveness, self-acceptance, acceptance, takes appropriate responsibility, self-compassion.
Indications:
Guilt, self-punishment, lack of self-forgiveness, difficulty forgiving others, strong ideas of good and bad or right and wrong, feels at fault.
Chakra / Subtle Bodies:
Solar plexus chakra, Emotional body.
How to Use
In our experience of using Hyssop, it works extremely well taken as a single essence on its own. An effective dose for most adults is four drops on the tongue 4 x a day, straight from the stock bottle. For best results take consistently for a period of two to four weeks.
It is also very effective mixed into a stock combination with other deep acting Flower, Gem or Crystal essences if you want to focus on an issue in more depth.
Hyssop Flower Essence is one of the essences included in the: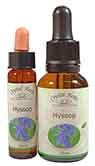 Essence Range: Single Flower Essences
Adult How to Use: Four drops on the tongue 3 – 4 x a day… Full How to Use
Essence Type: Single Flower Essence | Stock Level
See Also…
Do You Need Any Help or Advice?
If you need any help or advice with this Essence, or if you'd simply like to talk to someone about whether this would be the right Essence for you, please do contact us and we'd be please to help – Contact Us
Share Your Experiences…
We hope you've enjoyed our exploration of the Hyssop Flower Essence. We'd love to hear your experiences of working with this essence so please do leave us a comment and share your experiences!
Catherine is a director at Crystal Herbs and has been with us since the early 1990's. She is a trained essence practitioner, energy healer, teacher and workshop leader. She loves creating vibrational essences and greatly enjoys making the mother tinctures that allow us to provide our wide range of flower, gem & crystal essences. Her passion is to provide the knowledge, wisdom and tools that will support others to find greater harmony, well-being and spiritual fulfilment in their lives.
More About Catherine Keattch | All Blog Articles | All Videos