We are often asked which essences make the best gifts for family and friends so this is our pick of gifts for all the essence lovers, heart-centred humans, and spiritual souls in your life. Here you will find a selection of beautiful gifts to nourish your loved one's minds, emotions, spirits and souls.
Vibrational essences work at an energetic level to rebalance thoughts, feelings and subtle energies which makes them gentle yet effective tools for increasing self-awareness and enhancing personal transformation. Essences help us to connect more consciously with our hearts as a source of love, guidance and connection to ourselves, others and the world around us so they make lovely gifts for anyone who is on a spiritual path or who wants to live a meaningful life.
Does your friend or partner want to welcome in more abundance and prosperity?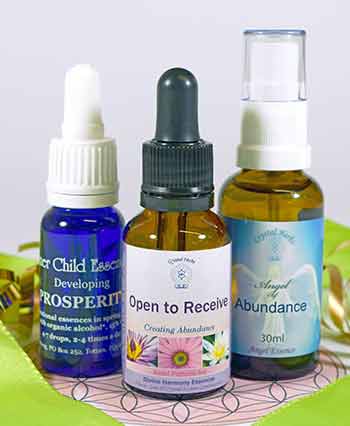 Divine Abundance and Flow is the ideal gift for opening the door for new abundance of all kinds to come into their life. It will help them to consciously remember their connection with universal abundance, enhance their ability to receive, and release any old patterns that block abundance from flowing. Perfect for when they're ready to say goodbye to old patterns of poverty and lack so they can welcome in new vibrations of abundance and flow.
Contains: 30ml Angel of Abundance Spray, 25ml Open to Receive Essence & 15ml Inner Child Prosperity Essence
Angel of Abundance Spray will help them to consciously remember that they are a part of the flow of divine universal energy, Open to Receive Essence opens their heart chakra to receive divine abundance in all forms, and Inner Child Prosperity Essence releases childhood patterns that unconsciously block prosperity.
Benefits of using these essences:
Opens the heart chakra to receive more fully
Releases old patterns that block the flow of abundance
Strengthens your ability to attract all that you need
Promotes the state of Divine Abundance
Click here for Divine Abundance and Flow Gift Set
Are you looking for a gift for an empath or highly sensitive soul?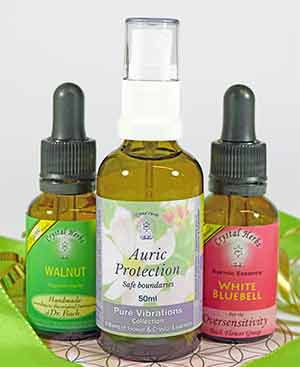 Healthy Sensitivity is a wonderful gift for anyone who gets overwhelmed by other people's thoughts and emotions, feels energetically drained in crowds, or finds boundaries difficult. Essences are ideal for sensitive souls because the very sensitivity that can make life feel overwhelming for them means that they notice the benefits of using essences quickly and will soon feel centred in their own energy.
Contains: 50ml Auric Protection Spray, 25ml White Bluebell Essence & 25ml Walnut Essence
Auric Protection spray will quickly centre them in their own energetic space, Walnut essence will help them to feel protected in their daily life, and White Bluebell Essence brings deeper understandings about why they pick up on other people's thoughts and emotions.
Benefits of using these essences:
Strengthens the auric field so you don't feel drained around others
Helps you to feel protected and centred in your own energy
Enhances the ability to separate yourself from other people's thoughts and emotions
Promotes healthy boundaries
Click here for Healthy Sensitivity Gift Set
Do your loved ones want to develop or deepen their meditation practice?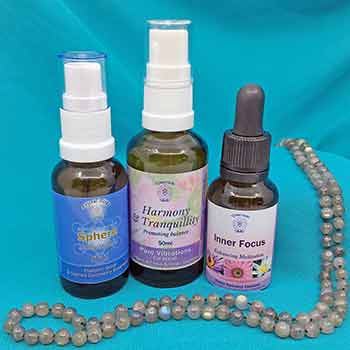 Meditation: A Space of Connection is the perfect gift because it enhances inner alignment and soul connection, making it easier to meditate. This is a wonderful choice for anyone who wants to still their mind and calm their emotions so they can experience greater soul alignment and connection with themselves.
Contains: 50ml Harmony and Tranquility Spray, 25ml Inner Focus Essence & 30ml Sphere Spray
Harmony and Tranquility Spray restores inner equilibrium, Inner Focus Essence will deepen their experience of meditation, and Sphere Spray will connect them with their own calm, sacred centre.
Benefits of using these essences:
Provides the inner focus that enables you to meditate more effectively
Calms and centres you in your own energetic space
Balances unruly thoughts and turbulent emotions
Enhances inner alignment and soul connection.
Click here for Meditation: A Space of Connection Gift Set
Are you looking for a gift for the mystics, star seeds, light workers and cosmic souls in your life?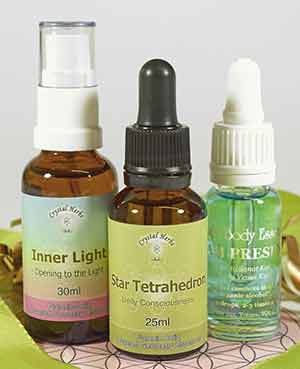 Soul Presence is the ideal gift for those people who are so deeply connected to the inner realms that they can be difficult to find gifts for. The essences in this set will activate their Higher Self, expand their consciousness, and help them to assimilate higher frequencies of light so their spiritual gifts can be integrated more fully into their daily life.
Contains: 30ml Inner Light Spray, 25ml Star Tetrahedron Essence & 15ml I Am Presence Light Body Essence
Inner Light Spray will help them to assimilate high frequency energies, Star Tetrahedron Essence enhances unity consciousness, and I Am Presence Essence will open them to receive greater guidance from their Higher Self.
Benefits of using these essences:
Enhances inner wisdom and soul guidance
Activates greater Unity Consciousness
Balances polarities
Expansion of consciousness
Click here for Soul Presence Gift Set
Do you know a blocked creative who wants to feel more inspired?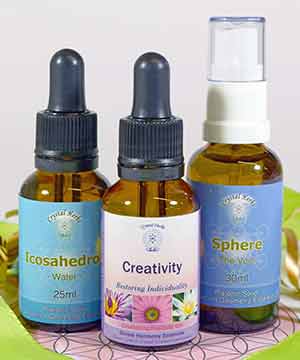 Creativity and Inspiration is a wonderful gift for opening to the flow of inspiration, expanding their connection with their sacred creative centre, and encouraging creative expression. Perfect for those friends who want to write, make art, create music or dream up new ideas but are feeling stuck, creatively blocked and can't find the inspiration.
Contains: 30ml Sphere Spray, 25ml Creativity Essence & 25ml Icosahedron Essence
Sphere Spray quickly connects them with their own calm, sacred centre of creative 'beingness', Creativity Essence promotes the free flow of creativity, and Icosahedron Essence brings in feminine creative energies that are both expansive and flowing.
Benefits of using these essences:
Helps you to feel more connected to the flow of inspiration from your soul
Enhances the flow of feminine life force energy
Stimulates individuality
Enhances creative expression
Click here for Creativity and Inspiration Gift Set
Does your best friend want to experience more love in their life?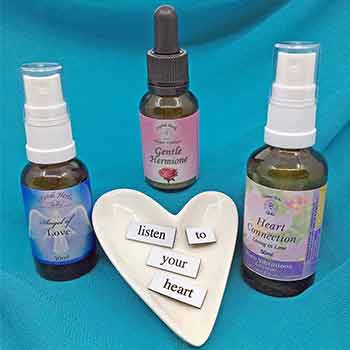 We have two gifts to choose from: Loving Heart Space and Heart Connection Set
Loving Heart Space is a set of three essences to expand their connection with their heart chakra, awakening greater feelings of unconditional love and divine connection. If you know somebody who is always there for everyone else but doesn't make time for themselves or who's had a difficult time recently these essences will help them deepen their relationship with the infinite love in their heart so they will feel more love and more loved.
Contains: 50ml Heart Connection Spray, 25ml Gentle Hermione Rose & 30ml Angel of Love Spray
Heart Connection Spray quickly centres them in the loving energy of their heart, Gentle Hermione Rose nurtures the spark of Divine Love held deep within them, and Angel of Love spray helps them to activate unconditional love in all areas of their life.
Benefits of using these essences:
Helps you to feel more love and more loved
Reminds you of the Love that you are
Opens the heart chakra so it's easier to make choices based on love
Cleanses old emotional pain that stops your heart from opening fully to unconditional love
Click here for Loving Heart Space Gift Set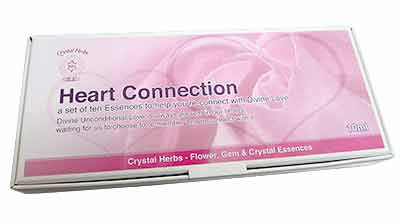 Heart Connection Set contains 10 essences which help to awaken more divine unconditional love within the heart. These Essences will support them to fall in love with themselves so that every day becomes an expression of love in action.
Featuring exquisite roses, divine angelic vibrations, sacred gems and powerful combinations, all 10 of these essences have been hand-picked for their ability to help us align with the harmonics of the heart.
Contains 10 essences: Angel of Love, Awakening the Heart, Fuchsia, Heart Chakra, Heartfelt Forgiveness, Inner Wisdom, Open to Receive, Purity of Heart, Ruby & Unconditional Love.
Benefits of using these essences:
Enhances your capacity to connect with and expand the spark of divine unconditional love that resides deep within each human heart
Helps you to connect with the radiance of your true self
Helps you to recognise that you came from love, and will always be loved by the Source of your being
Click here for Heart Connection Set
Do you have any Bach Flower Remedy and oracle card lovers in your life?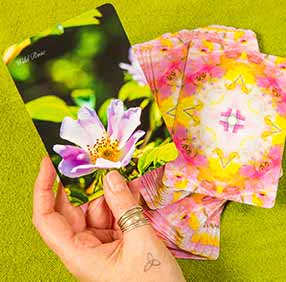 The Bach Flower Spirit Cards make a special gift because these beautiful flower portraits will help them to choose Bach Flower Remedies intuitively.
The images on the cards will speak to their soul whether they're a Bach Flower Remedy enthusiast or someone who likes to use oracle decks for guidance and inspiration.
Bach Flower Spirit cards come in a choice of two decks: The Inner Clarity Deck features Bach Flower Remedy images on white background and The Wild Embodiment Deck features Bach Flower Remedy images on nature background.
Each deck contains: 38 full colour photo cards with Rescue Remedy mandala on card backs + 2 double-backed instruction cards with suggestions for use and a 40 page full-colour booklet with guidance for choosing and using Bach Flower Remedies.
Click here for the Bach Flower Spirit Cards
Do your friends and family prefer to choose their own gifts?
We have the ideal solution!
A Crystal Herbs Gift Voucher is the perfect gift everyone who loves Flower and Vibrational Essences. Our vouchers can be used with our full range of Bach Flower Remedies, Flower, Gem & Crystal Essences, Sets, Books and other services. They can be used on-line here at Crystal Herbs, over the phone or through the post and you choose whether we post the voucher in a card or send it by email (perfect for last minute gifting!)
We offer £15, £25 or £50 vouchers.
Click here for our Crystal Herbs Gift Vouchers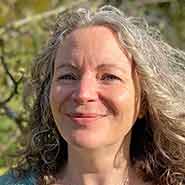 Jackie Stewart has been using Crystal Herbs essences for 25 years and trained as a Flower and Vibrational Essence Practitioner in 1999. She joined the Crystal Herbs team in 2019 and is passionate about how essences help us open our hearts to co-create a world that thrives on Love.