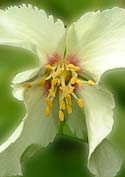 May is always a special and magical month of the year, and this year is certainly no exception. Always at this time of the year the veils between the Earth and the Spiritual Realms are thinner and we can receive greater clarity and inspiration from our own Higher Selves and the Beings of Light if we are open to it. The full moons in Aries, Taurus and Gemini mark the days of celebration for the three great spiritual festivals of the year; the Easter Festival (full moon when the sun is in Aries), the Wesak Festival (full moon when the sun is in Taurus) and the Christ Festival (full moon when the sun is in Gemini). This year we have the unusual gift of two powerful Wesak full moons; the first was on April 20th and the second will be on May 19th/20th making it a time particularly potent with opportunity for new growth and higher inspiration.
Natures Mirror
We were reflecting on this over the May holiday weekend and recognising just how beautifully nature mirrors the amazing potential for new growth on all levels that this time offers. Everywhere around us life is bursting forth in all its glorious summer colours almost as you watch, and the feeling of love, life and oneness are in every breath that you take and in every direction that you look. It is humbling to recognise how everything in nature works together to support the common environment and also to see how every aspect of nature inherently knows its own Divinity and contributes its unique gifts to the whole without second thought. This seemed such an important message for us all that we thought we would invite you to contemplate it over the coming weeks. So as you enjoy the beauties of nature this May remember to connect with the beauty within your own heart and to connect deeply with the unfolding beauty that is your true self – the part of you that is unchallenged by the beliefs of the ego. Allow yourself to honour and nurture the same life, love & beauty that you see in nature, within your own heart centre. Be open to the feeling of oneness with all life and the joy of giving and receiving that this opens up. As you observe the gifts of nature unfolding around you with wonder, take a few moments each day to look with new eyes within yourself at your own gifts and talents and look for ways that you can contribute these as your way of sharing your unique beauty with those around you. Simply knowing that you are Love deep within your heart changes everything from the inside out.
Angel Inspiration
If you would like some help and support to go deeper within yourself this month, then why not call on the inspiration and help of the Angels by taking one of our Angel Essences. We would particularly recommend the
Angel of Beauty
who will be glad to help you to see your own inherent beauty more clearly or the
Angel of Glory
who offers help in remembering your Divinity. The
Angel of Love
and the
Angel of Abundance
will both help you to open up your heart to Love, while the Angels of
Transmutation
and
Purification
will be only too happy to assist you in releasing old patterns that are blocking your ability to see your true self. You can find out more about these beautiful essences and how they can help you here –
Angel Essences
. We wish you a wondrous & joyful month and send you all much love with the reminder to contact us if you need further help or support on your journey.
Crystal Herbs is a specialist Flower Essence producer and we're passionate about all aspects of Vibrational Essences. We have been making and selling our range of Essences for nearly 30 years and have customers all over the world. All of our essences are handmade with love & care and alongside the Essences that we offer we also provide help, support and information about vibrational Essences. Crystal Herbs is run by Catherine Keattch and Sam Cremnitz, along with a dedicated team who are all trained practitioners and healers in their own right. More About Crystal Herbs | Contact Us