Green Calcite Essence Review
So the focus for this month's essence review is the Green Calcite essence from our Individual Gem / Crystal Essence repertory.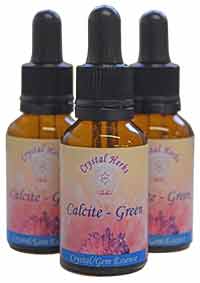 Essence Range: Single Crystal Essences
Adult How to Use: Take four drops on the tongue 3 – 4 times a day. Full How to Use
Essence Type: Single Crystal Essence | Stock Level
Calcite is one of the most common minerals on Earth and is found in a variety of other colours apart from green, including clear, yellow, pink, orange, grey and brown.
If you are interested in crystals it is highly likely that you will have a favourite piece of calcite in your collection somewhere.
Transformational Change
Green calcite has some qualities that are particularly helpful for us right now as we go through our process of transformation on Earth.
If you were to think of this process as being rather like the one a caterpillar goes through in order to become a butterfly, currently we are in the 'chrysalis' stage where we are undergoing intense energetic change designed to upgrade all of our systems to hold more light. Although the changes are less visually obvious in humans than they would be in the case of a caterpillar turning into a butterfly, they are potentially just as spectacular none the less.
As the levels of light we are able to hold gradually increase our level of consciousness rises and we are faced with the challenge of releasing the view of the world that we had as a 'caterpillar' in favour of one that will allow us to fly like a butterfly. This is the process of change that we are going through right now and as we are all discovering it can sometimes feel like a bit of a bumpy ride as we move through it. In this situation the Green Calcite essences is one of the essences that we turn to for some support to help us along.
The Green Calcite Essence
Green Calcite essence helps to open new energy pathways into the body so that high frequency energy/light can more easily be absorbed into the etheric blueprint and physical body.
It will also help to release old energy patterns, emotional and mental, that hold your perspective stuck in the old illusion of 'reality' as seen by the caterpillar. This is so valuable as it is these old issues that cause us to experience the 'bumps' in the road and make it difficult for us to permanently maintain a higher vibrational frequency.
The ability to consciously connect with our soul and to bring its energy and wisdom fully into our everyday lives is another important aspect of the change that we are going through. Use Green Calcite essence to help stimulate your ability to connect with and anchor more of your soul energy into your everyday awareness. It will help the integration and use of this energy, as well as promoting the release of any old patterns that might be blocking your creative flow.
How to Use
Green Calcite essence works extremely well taken as a single essence on its own. An effective dose for most adults is four drops on the tongue 4 x a day, straight from the stock bottle. For best results take consistently for a period of two to four weeks.
It is also very effective mixed into a stock combination with other deep acting Flower, Gem or Crystal essences if you want to focus on an issue in more depth.
Green Calcite is one of the essences included in the Self Acceptance combination from the Divine Harmony Essences.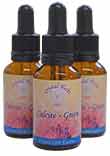 You can order a bottle in our shop here:
Green Calcite Crystal Essence
Or call us on – 01379 608059 (+44 1379 608059)
Share Your Experiences…
We hope you've enjoyed our look at Green Calcite Essence. We'd love to hear your experiences of working with this essence or working with the related issues, so please do leave us a comment and share your experiences!

Catherine is a director at Crystal Herbs and has been with us since the early 1990's. She is a trained essence practitioner, energy healer, teacher and workshop leader. She loves creating vibrational essences and greatly enjoys making the mother tinctures that allow us to provide our wide range of flower, gem & crystal essences. Her passion is to provide the knowledge, wisdom and tools that will support others to find greater harmony, well-being and spiritual fulfilment in their lives.
More About Catherine Keattch | All Blog Articles | All Videos