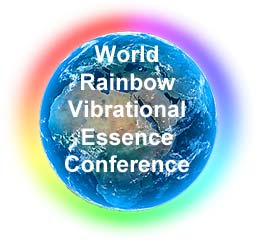 The World Rainbow Vibrational Essence Conference – March 19th-21st 2011
The World Rainbow Vibrational Essence Conference promises to be an exciting event and a great opportunity to find out more about Vibrational and Flower, Gem & Crystal Essences from some of the worlds leading experts.
The three day conference is being organised by the British Flower & Vibrational Essence Association (BFVEA) and AS I ACT – a renowned International Charity. It aims to bring both a greater knowledge and understanding of Essences and also an opportunity to explore how we can attain greater well-being in ourselves and positive transformation in our world.
The range of speakers booked for the conference bring with them a vast depth of expertise and knowledge in the field of Essences and include Essence producers, practitioners and other leading figures from the Essence world.
The conference is being held over the 2011 Spring Equinox – which should in itself be a powerful and energetic time – and is in the beautiful house and grounds of Dev Aura, the spiritual home of the Aura-Soma colour system.
The conference should be an amazing and interesting experience for all those interested in Essences.
World Rainbow Vibrational Essence Conference
Saturday 19th – Monday 21st March 2011
Dev Aura, Tetford, Nr Horncastle, Lincs LN9 6QB
T: +44 (0)1507 533218
Crystal Herbs is a specialist Flower Essence producer and we're passionate about all aspects of Vibrational Essences. We have been making and selling our range of Essences for nearly 30 years and have customers all over the world. All of our essences are handmade with love & care and alongside the Essences that we offer we also provide help, support and information about vibrational Essences. Crystal Herbs is run by Catherine Keattch and Sam Cremnitz, along with a dedicated team who are all trained practitioners and healers in their own right. More About Crystal Herbs | Contact Us